Kevin Hart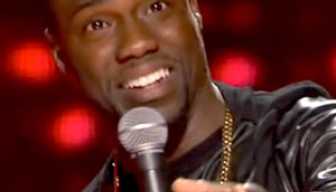 Kevin Hart is an American actor, comedian, writer, and producer. Born and raised in Philadelphia, Pennsylvania, Hart began his career by winning several amateur comedy competitions at clubs throughout New England, culminating in his first real break in 2000 when he was cast by Judd Apatow for a recurring role on the TV series Undeclared. The series lasted only one season, but he soon landed other roles in movies like Paper Soldiers (2002), Scary Movie 3 (2003), Soul Plane (2004), In the Mix (2005) and Little Fockers (2010).
Hart's comedic reputation continued to grow with the release of his first stand-up album I'm a Grown Little Man (2008), and performances in the films Think Like a Man (2012), Grudge Match (2013), Ride Along (2014), About Last Night (2014) and Get Hard (2015). He also released four more comedy albums, Seriously Funny in 2010, Laugh at My Pain in 2011, Let Me Explain in 2013, and What Now? in 2016. In 2015, Time Magazine named Hart one of the 100 most influential people in the world on the annual Time 100 list. He currently stars as himself in the lead role of Real Husbands of Hollywood.
Stand-up
Hart's first gig was at The Laff House in Philadelphia under the name of Lil Kev, which did not go well. His career suffered a slow start, as he was booed off stage several times, once even having a piece of chicken thrown at him. After those initial unsuccessful shows, Hart began entering comedy competitions throughout Massachusetts, and his fortunes soon turned for the better.
It took time for Hart to develop a unique comedic style. After an early period of attempting to imitate comedians like Chris Tucker, he found his own rhythm by delving into his insecurities and life experiences. "Because of what I do, it has to be an open book," he has said. "But right now this is a book that is being written."
Hart's comedy tours began in 2009 with his act titled "I'm a Grown Little Man," followed by "Seriously Funny" in 2010, "Laugh at My Pain" in 2011, and most recently, his TV special titled "Let Me Explain" in 2013. Hart grossed over $15 million from "Laugh at My Pain", making it one of the year's top-selling comedy tours. Hart also has a game available through iTunes called "Little Jumpman." His Facebook page, Twitter account, and YouTube channel are all connected to and accessible through this app. Most overseas fans of Hart discovered him on YouTube, as well.
It was announced in October 2013 that ABC will be making a 30-minute pilot based on Hart's stand-up act. Hart does not plan to star in the sitcom, but does plan on having a recurring role.
African American Comedian
//
Famous Stand up Comedians
,
Famous Black Comedians