Dave Chappelle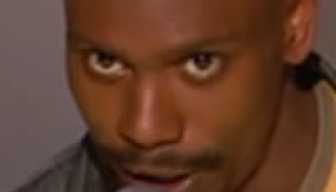 Dave Chappelle is an American comedian, screenwriter, television/film producer, and actor. In 2003, he became widely known for his popular sketch comedy television series, Chappelle's Show. Comedy Central ranked him forty-third in the list of the 100 greatest stand-up comedians.
Early works
His stand-up comedy career started at the age of 14 performing in Washington, D.C.'s comedy circuit. After graduating from high school, Chappelle moved to New York City to pursue his stand-up comedy career. He gathered the courage to perform at Harlem's famed Apollo Theater in front of the infamous "Amateur Night" audience. The performance resulted in him being booed off the stage. Chappelle has described the experience as the moment that gave him the courage to continue his show business aspirations. He quickly made a name for himself in the New York City comedy circuit, even performing in the city's parks. At the age of 19, Chappelle made his film debut as "Ahchoo" in Mel Brooks's Robin Hood: Men in Tights. That same year, he had a small but showy role in the film Undercover Blues. On the strength of his performances in these films, Chappelle was offered the role of Bubba in Forrest Gump, which was in a pre-production stage. Not realizing the impact this future Best Picture Oscar would have, and concerned about what seemed to be a racially-demeaning character, he turned down the part. He has since admitted to regretting the decision. Chappelle played another supporting movie role in 1994's little-seen Getting In.
Chappelle's Show
In 2003, Chappelle debuted his own weekly sketch comedy show on Comedy Central called Chappelle's Show. The show parodied many aspects of American culture including racial stereotypes, politics and pop culture. Along with comedy skits, the show also featured musical performances by mostly hip-hop and soul artists. Chappelle's pointed social and political commentary quickly helped the show garner critical and commercial success as well as controversy.[6] Richard Pryor, one of Chappelle's comedic influences, was a fan of the show and stated that he had "passed the torch" to Chappelle. He received two Emmy nominations for the show.
African American Comedian
//
Famous Black Comedians
,
Famous Stand up Comedians