Ellen DeGeneres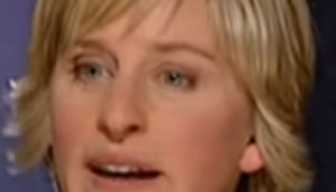 Ellen Lee DeGeneres is an American stand-up comedienne, television hostess and actress. She hosts the syndicated talk show The Ellen DeGeneres Show, and is also a judge on American Idol, having joined the show in its ninth season.
She has hosted both the Academy Awards and the Primetime Emmys. As a film actress, she starred in Mr. Wrong, appeared in EDtv and The Love Letter, and provided the voice of Dory in the Disney-Pixar's animated film Finding Nemo. She also starred in two television sitcoms, Ellen from 1994 to 1998 and The Ellen Show from 2001 to 2002. In 1997, during the fourth season of Ellen, she came out publicly as a lesbian in an appearance on The Oprah Winfrey Show. Shortly afterwards, her character Ellen Morgan also came out to a therapist played by Winfrey and the series went on to explore various LGBT issues as well as the coming out process. She has won twelve Emmys and numerous awards for her work and charitable efforts.
Stand-up comedy
DeGeneres started performing stand-up comedy at small clubs and coffeehouses. By 1981 she was the emcee at Clyde's Comedy Club in New Orleans. Degeneres describes Woody Allen and Steve Martin as her main influences at this time. In the early 1980s she began to tour nationally, being named Showtime's Funniest Person in America in 1982. In 1986 she appeared for the first time on the Tonight Show with Johnny Carson, who likened her to Bob Newhart. When Carson invited her over for an onscreen chat after her performance, she became the first female comedian in the show's history to whom this honor was bestowed.
American Comedian
//
Famous Female Comedians
,
Talk Show
,
Famous Stand up Comedians