Joe Wong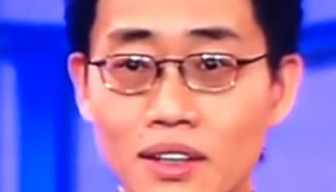 Joe Wong (Chinese: 黄西; pinyin: Huáng Xī) is a Chinese American comedian and chemical engineer. He was born to a Korean Chinese family in Baishan, Jilin, China. His family moved from Korea to China three generations ago. He graduated from Jilin University and Chinese Academy of Sciences, before he went to further study chemistry at Rice University in Texas in 1994. He graduated from Rice in 2000 with a PhD in Biochemistry. He then moved to Boston in 2001 and began to perform his comedy at All Asia Bar, at Stash's Comedy Jam.
Although he had won numerous awards, he did not attract American nationwide attention until after his appearance on Late Show with David Letterman on April 17, 2009. On St. Patrick's Day, 2010, he headlined the annual dinner hosted by the Radio and Television Correspondents' Association. On June 19, 2010, he placed first in the Third Annual Great American Comedy Festival.
Since 2013, he moved back to Beijing, China, hosting television shows, such as "是真的吗?(Is that for real?)", a MythBusters like program, on China Central Television.
Chinese American Comedian
//